Carbon Fibre Yarns from SageZander
SageZander provides high performance Carbon Fibre Yarn working as agents for Formosa Plastics on this product for many years. Our Carbon Fibre materials is suitable for a wide range of industrial applications and carbon fibre production methods.
Carbon Fibre consists of around 95% of carbon atoms and this fibrous durable material is a product of modern technology. The carbon atoms are bonded together in microscopic crystals that are more or less aligned parallel to the long axis of the fibre.
The crystal alignment makes the fibre incredibly strong for its size. Several thousand carbon filaments together to form a yarn, which is often processed using resins or woven into a fabric prior to applying resins. Carbon fiber filament yarns are usually combined with other materials to form a composite material.
For more information on our Carbon Fibre Yarns then feel free to get in touch with SageZander today.
"Serving our customers with their needs at the heart of our operations."
Tairyfil Brand Carbon Fibre Yarn
SageZander supplies Tairyfil Brand carbon fiber yarn from the Formosa Plastics Group production facility within Taiwan. Formosa is a large scale carbon fibre yarn manufacturer with a global presence. We cover a wide range of grades and a wide range of tow thicknesses.
Tairyfil Carbon Fibre Yarn is suitable for a wide range of industrial applications and production methods. It can be made into uni-directional, woven, braided, pultruded or filament wound products.
Formosa is a truly independent manufacturer of carbon fibre with control over the production of all the raw material inputs and the full manufacturing process. See below for 'About Carbon Fibre Manufacturing'.
We have the below grades available in standard modulus carbon fiber, intermediate modulus carbon fibre and high modulus carbon fiber production.
Please contact us for all pricing, delivery, technical questions and to check our stock position.
Fabric and Component Compatibility
SageZander can supply the fibre with sizing's that are compatible with epoxy, vinyl ester, phenolic and other systems. Tairyfil Carbon Fibre Spun Yarn products can be found in a range of industries including automotive, marine, wind energy, civil engineering and sporting goods.
In addition to the characteristic properties of carbon fiber composite applications such as high tensile strength, corrosion resistance, electrically conductive, light weight and high temperature resistance.
Our items are all available with a multi-sizing compatible sizing which works with epoxy and other systems. We have a specific sizing available for thermoplastics and we can also offer a water sized fibre on certain fibre types. Please contact us for all pricing, delivery and technical questions or to ask us about our sizing choices.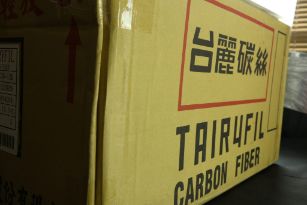 Carbon Fibre Applications
We start with TC33 1.5k suitable for weaving fabrics around 100 grammes per square metre weight or lower. TC 33 3k is generally for fabrics around 200 gsm where a good aesthetic carbon fibre surface is needed. The heavier weight tows can be woven as they are or can be spread and woven as tape yarns produced to create lighter weight fabrics that can be cost effective. The below shows a couple of examples of where our fabrics can be used in the automotive and information technology industries using 12k carbon fibre for wheels and 3k carbon fibre showing good aesthetic qualities for lap tops.
Multiaxial fabrics - 12k and 24k Carbon Fibres

TC35R 12k and TC35R 24k carbon fibers are our most popular qualities giving a good performance and a competitive cost structure where the fibre performance required doesn't need to meet the typical industry standard 36 Msi and 250 Gpa. If you do need 36 Msi and 250 Gpa then our TC36P 12k and 24k carbon fibers are available. (Also see our low melt yarn page for holding threads)
Feeding our fibres in to Uni Directional prepreg fabrics is a great option with again the TC35R 12k and 24k carbon fibers being good alternatives. We have some types with low size possibilities which can help fibre spreading. Check with us about the options.
For general pultrusion processes such as rods, tubes and more complex grades our general array of grades is available. For structural applications and cable core applications our TC36P grade might be preferred for some applications. For flat laminates used as plates in wind energy applications our TC35R 48k is generally the most used option.
The length of a pultruded profile using our carbon fibre can be many kilometres long with the limitation being the amount of metres on the spools of yarn that are used in the process. Ask us if you have a need for longer spool lengths.
For pressure vessels our TC36P 12k or 24k carbon fibre yarn is generally the material of choice.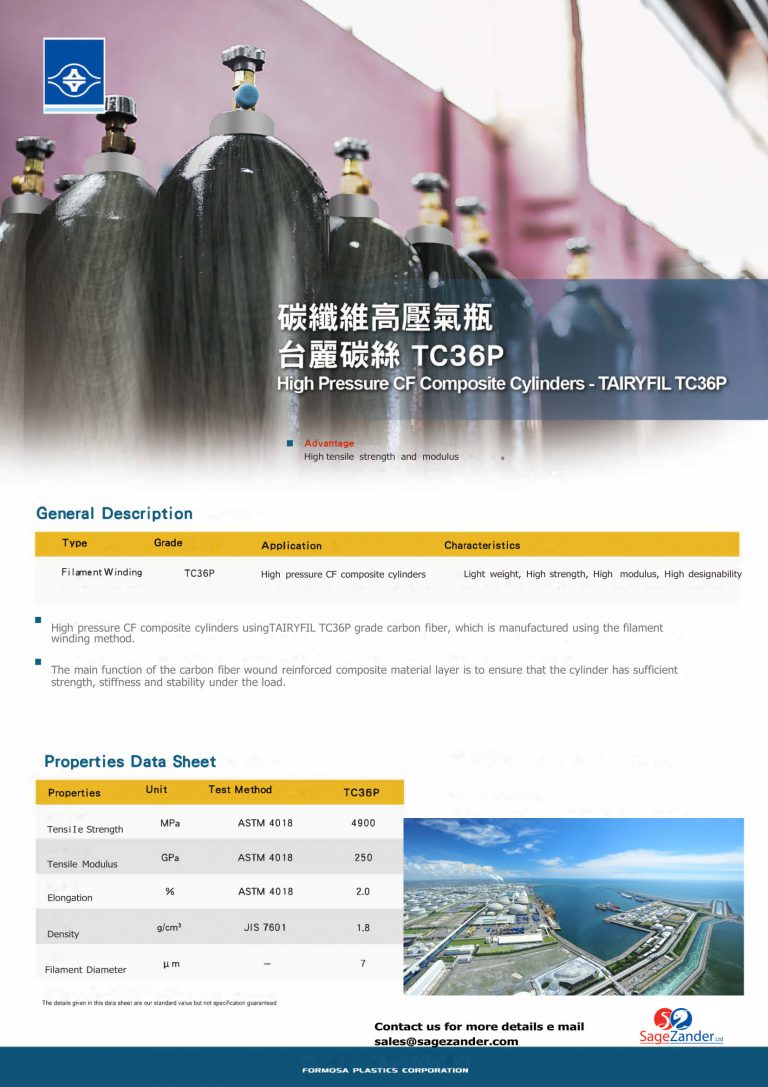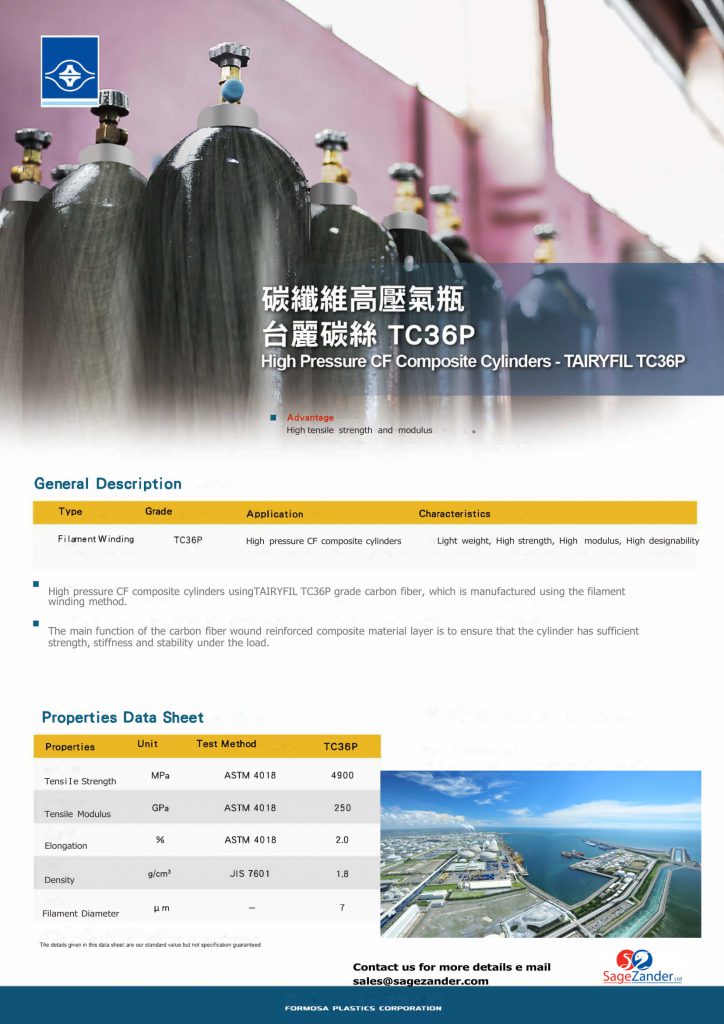 Carbon fibre yarns are also used for braiding. Because Tairyfil carbon fibre yarn does not contain any twist this can give advantages in the braiding process. The applications for braided materials can be as varied as aerospace and prosthetics. Our materials throughout the range from 1.5k to 48k all have potential in suitable applications.
We have a list of suggested applications and grades. Please let us know if we can answer any questions you have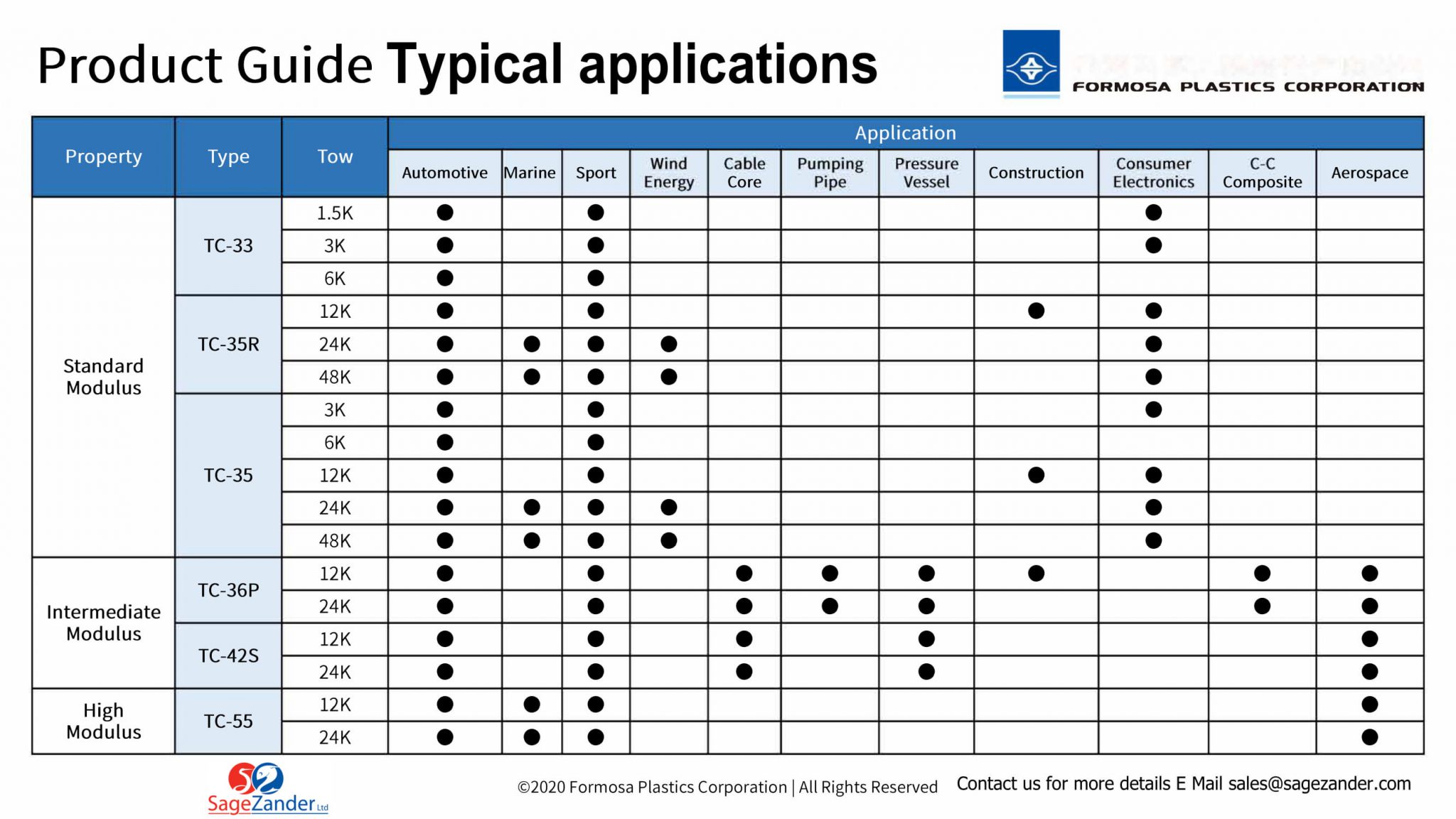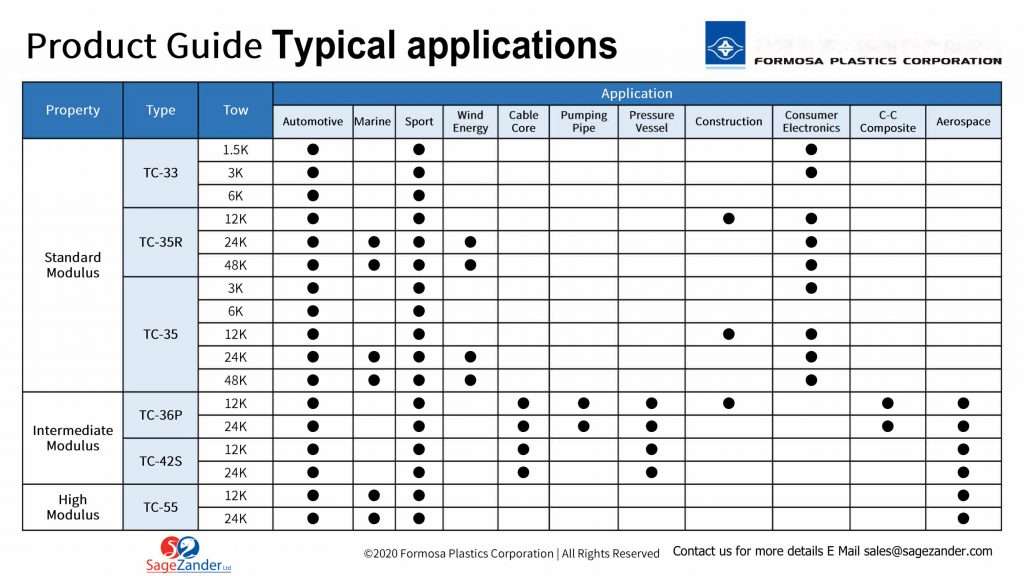 About Carbon Fibre Manufacturing
This is our basic guide explaining the basics of carbon fibre yarn manufacturing and giving a few insights into Formosa's activities.
Our carbon fibre is manufactured at Mailiao on the West side of Taiwan by Formosa Plastics Corporation. The manufacturing area is on land that was reclaimed from the sea, the whole site controlled by Formosa Plastics Group (FGP), the parent company. FGP is publicly listed and employs well over 100,000 people worldwide. Within the group Formosa has control over all manufacturing of the carbon fibre producing the raw materials beginning with the cracking of oil to produce the components needed to spin the precursor yarn which is eventually carbonised. Formosa use the brand name Tairyfil for their fibre.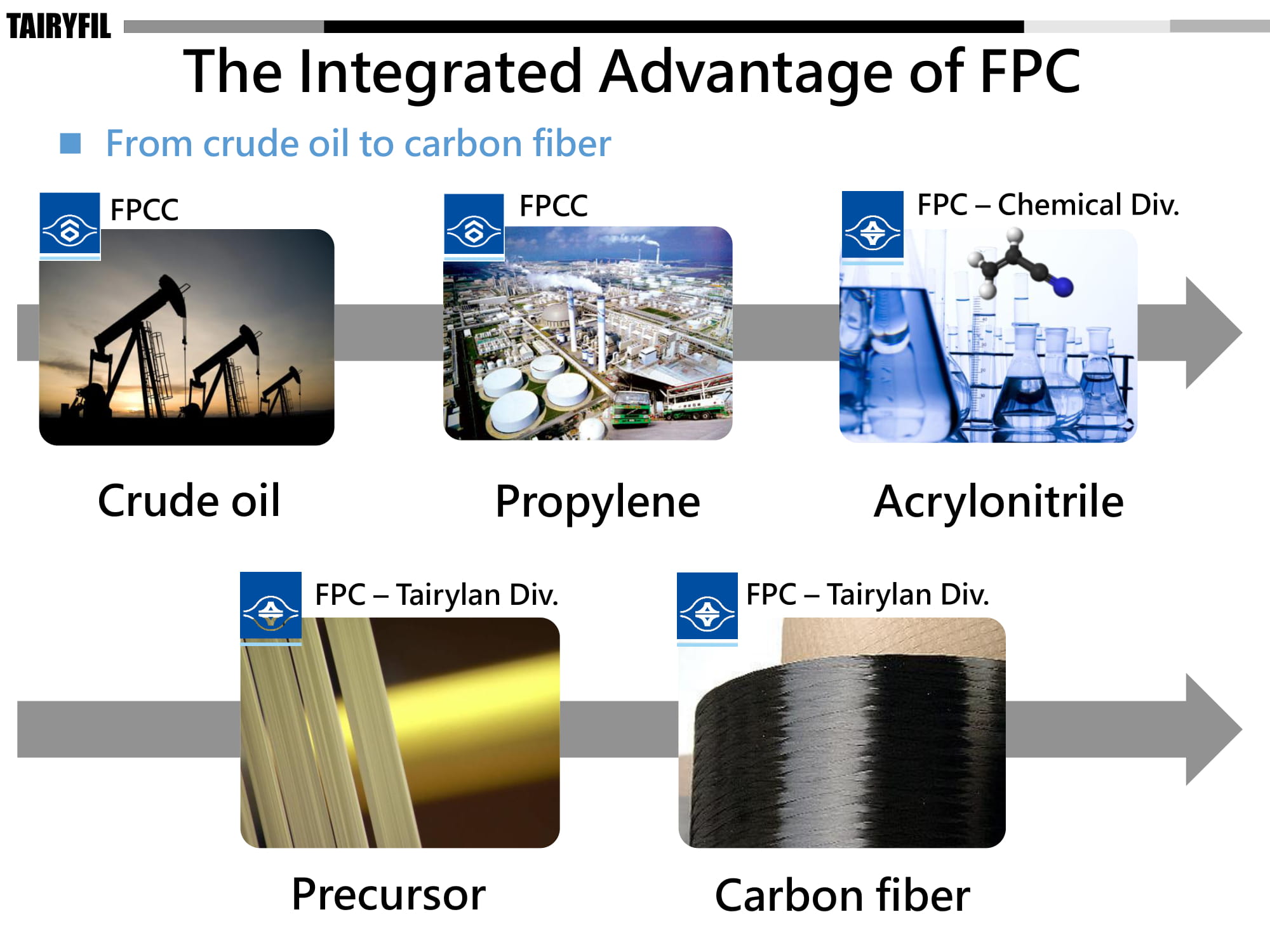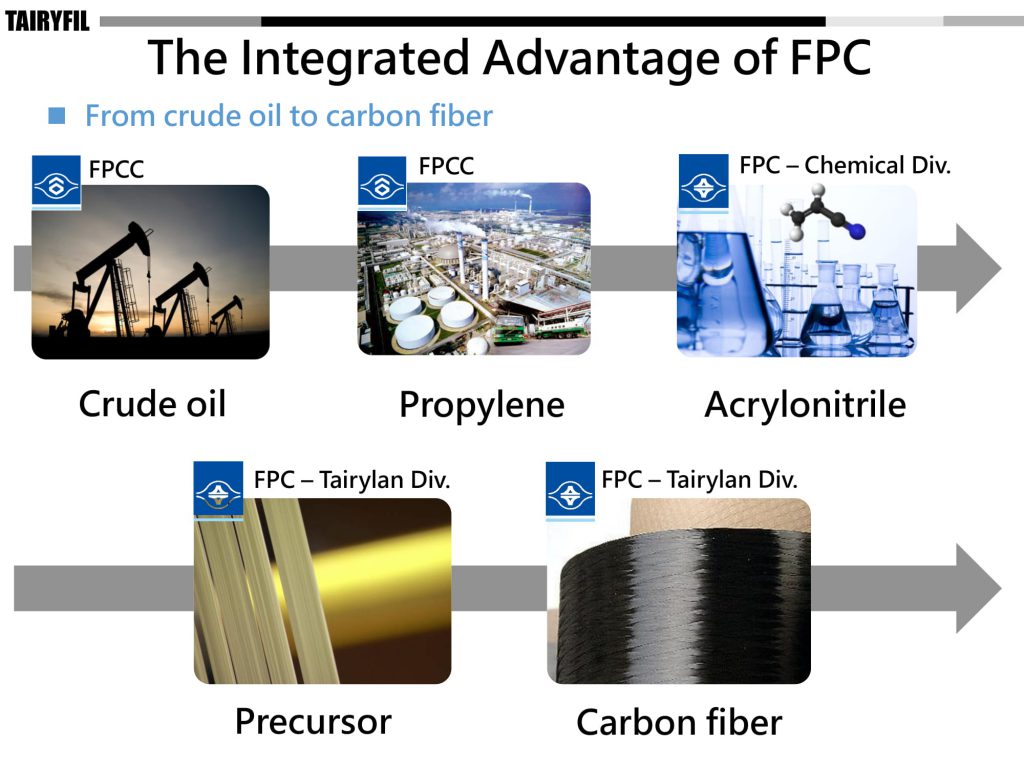 How Is Carbon Fiber Made?
In this picture, step 1, is showing the spinning process of the acrylonitrile yarn which is extruded through spinnerets (in a similar way to nylon or polyester filaments). The filaments produced are treated in various ways on their way to being wound onto spools which will then be used for the next process. Producing the acrylonitrile yarn is a crucial part of making sure the final carbon fibre yarn and processing parameters are highly guarded. Different acrylonitrile yarns might be manufactured to achieve carbon fibres with different target properties.
Step 2 sees the acrylonitrile precursor being converted into a carbon fibre yarn. There are many parameters here that can be adapted. These can be dependant upon which thickness of carbon fibre we are working with ; i.e. 3k (3,000 filaments) or 48k (48,000 filament) or/and parameters will be set to create a standard modulus carbon fibre i.e TC35R24k or an intermediate modulus TC42s 24k.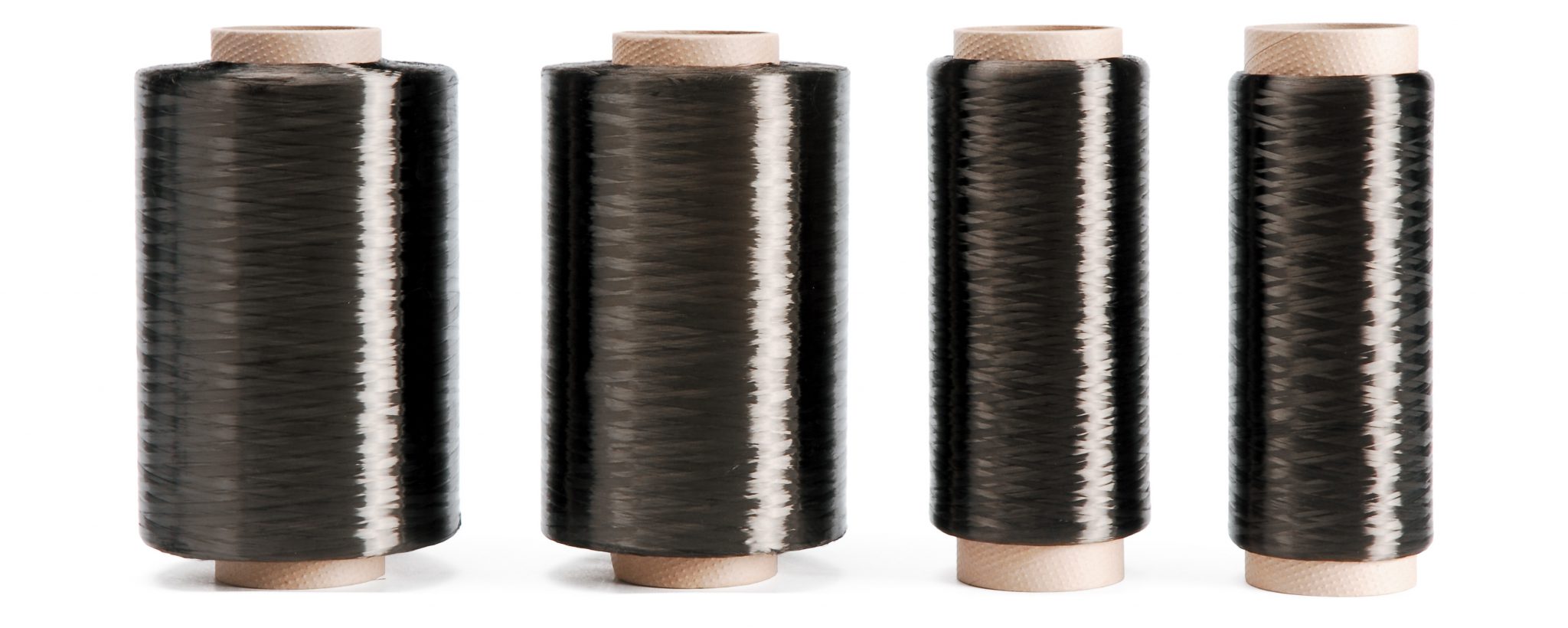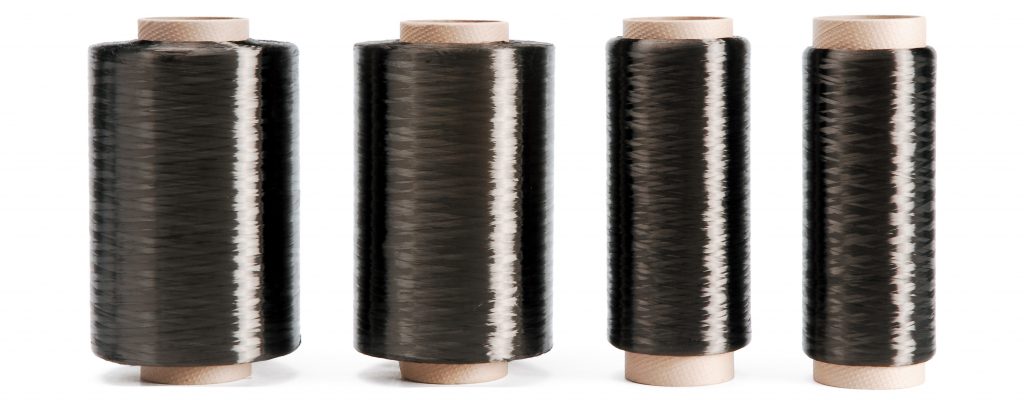 The oxidisation process uses a chamber which the precursor is passed through. The temperature here can be around 200-300 deg c and this is in air causing some changes to the reinforced polymer chains in the fibre. After oxidisation the fibre continues through to carbonisation. Carbonisation uses gases excluding oxygen and generally uses temperatures well in excess of 1,000 deg c for most carbon fibre grades. This step has the effect of aligning carbon atoms in the fibre to create what is now a carbon fibre.
In order to make the fibers more receptive to a sizing that is later applied to the fibers on the line, the surface treatment is a technique that is performed on the fibers. The size is essential because it promotes the carbon fiber's bonding during later operations when pieces with good mechanical qualities are manufactured. Carbon fiber is now easier to process and handle thanks to the size. The yarn is wound into spools at the end of the operation, ready to be packaged and dispatched to clients.
Formosa is certified to produce carbon fibre according to the following certifications:
ISO 9001
AS 9100C
ISO 14001
OHSA 518001
Frequently Asked Questions