Filidea Spun Yarns with SageZander
SageZander provides high quality Filidea products, including ECOTEC® by Marchi and Fildi. Filidea is part of a textile group located in Italy, Turkey and Brazil with production sites, dyeing on cones, research institutes & development and yarn warehouses.
Filidea is a 50/50 joint venture between Marchi and Fildi SPA and Abalioglu Tekstil Sanayi AS operating as a Turkish spinning mill, which is specialised in spinning high quality industrial fibres in a competitive way. SageZander are agents for Filidea in the UK and Ireland.
The strength of the company is sustainability, with 30% reductions in energy used in spinning , in the last 5 years, consumption of 50% less water than conventional dyeing plants and yarns obtained through the textile production process. Vast stock service, e-commerce and fast and punctual service characterize Filidea's brand.
Contact us today if you are interested in hearing more information about the Filidea products we supply.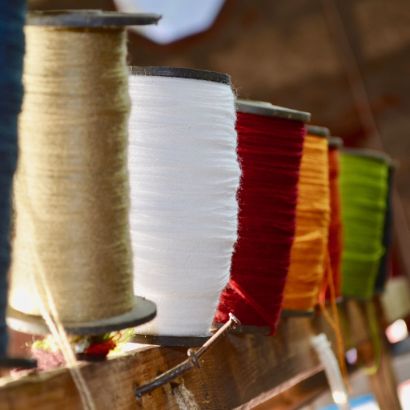 "Serving our customers with their needs at the heart of our operations."
SageZander Can Provide Filidea Spun Yarns
For Protective Clothing and workwear we are working with natural and man made fibres, Meta-Aramid Fibres, Modacrylic, Modacrylic Blends, Polyester F.R., Anti-Static Fibres, etc. Filidea is a Waxman Protal® partner for workwear. 
'Metamicro' for fine counts in meta aramid and blends and 'Metafine' for meta aramid in garments 
Filtration

we are working with our meta HT 100% Meta aramid Fibre, Homopolymer Acrylic, Polypropylene, etc.

Furnishing and Automotive applications

providing Kanecaron® Modacrylic and Trevira® as well as the possibility to blend with cotton or wool.

Carpets and carpet backing

we provide blends of polyester/cotton ring spun OE.
SageZander also works with So Neutral, Kermel®, Lenzing Viscose FR and often natural fibres in cotton and wool play a part in the composition of the technical yarns.
As well as conventional 'straight yarns', we can offer corespun, twisted yarns and a myriad of fibre technologies to be used in yarns starting from around Nm 7 (Ne 4) through to Nm 100 (Ne 60) and finer in certain fibre types. We can provide filidea srl 13900 biella and more.
With a range of options in open end and ring spinning and a dyeing factory able to dye both on package after spinning and before spinning in fibre we offer many possibilities. 
SageZander LTD is a Yarn and Technical Products wholesale company with global links. Our team serves a wide range of industrial customers from our UK offices. We provide the delivery of products across the UK and Europe.
Our highly skilled and qualified team provide the highest quality yarns from a wide range of products including Tairyfil Carbon fibre yarn, Tintoria Sala, TAY and many more. The SageZander team always ensure that you receive the best quality customer service along with your high quality yarns and technical products.
SageZander is connected with many U.K. and European industrial and technical textile and composite industry processors. It is always of interest to us to hear from new suppliers that are looking for someone to market their products and place new developments into the markets where we can help.
If you have any enquiries about our Filidea Spun Yarns then please contact us by giving us a call or drop us an email. We are always happy to try and help you solve your queries to the best of our abilities.