High Temperature and Technical Sewing Threads
High Temperature and Technical Sewing Threads
SageZander provide an excellent range of high temperature sewing threads. Our threads are available to suit various different applications, with a specialisation in high temperature resistance.
Our High Temperature and Technical Sewing Threads are heat resistant and have tensile strength. We are currently offering a range of different sewing thread materials which have a range of temperature resistances from 100°C right up to 700°C. Many of the sewing threads offer continuous filament, abrasion resistance and rot proofing as well.
If you are interested then be sure to contact us today for more information on our High temperature and technical sewing threads.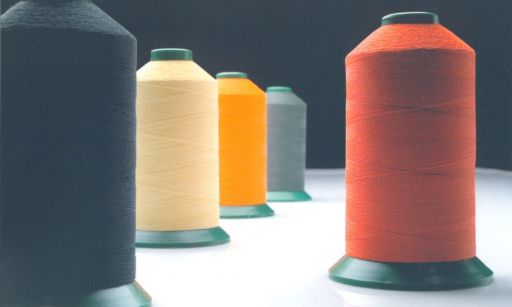 "Serving our customers with their needs at the heart of our operations."
Our Variety of Sewing Threads
Are you seeking High Temperature and Technical Sewing Threads? SageZander is currently providing a a wide range of different sewing threads including including para aramid yarns and yarns with ptfe coating. Our yarns have a range of different temperatures to our customers. Take a look and see the large variety of stock we have.
Kevlar® Sewing Thread (Up to 400c)
Our Kevlar Sewing Threads can be supplied in a range of counts. The main ones are Nm 50/2, 50/3, 50/4 and we can supply on measured king spools or larger cones as required. We also have the possibility to dye the sewing threads if yellow is not suitable for your requirement!
Twaron® Sewing Thread (Up to 400c)
Twaron® is also available as a sewing thread in Nm 50/2, 50/3, 50/4, 100/2 in natural yellow or colours. The regular packaging style for both the above yarns is kingspools of Nm 50/2 (5,000 metres), Nm 50/3 (4,000 metres), Nm 50/4 (3,000 metres) and Nm 100/2 (10,000 metres)
Technora® Sewing Thread (Up to 400c)
Higher strength than Kevlar®/Twaron®. Available in Gold and Black
Kevlar®/Steel AND Twaron®/Steel Sewing Thread (Up to 700c)
KEVLAR®/Steel and Tawron®/Steel Sewing Threads for high temperature applications where something extra is needed, these yarns contain a steel core and are produced with a final count of Dtex 2100. They are also available on king spool or bigger cones
Cotton/Steel Sewing Thread
Cotton or Steel Sewing Thread is available for high temperature applications where the steel remains and the cotton is burnt off. The cotton helps the sewing process but is sacrificial.
Meta-Aramid Sewing Thread (Up to 400c)
Meta-Aramid Sewing Thread is available for high temperature applications in Nm 50/2, 100/2, etc in natural white colour.
Stainless Steel Sewing Thread (Up to 700c)

SageZander LTD is a wholesale company with global links serving a wide range of industrial customers from our UK offices. We are always looking to establish new co-operations that can generate new business or create business synergies.
Our highly skilled and qualified team provide the delivery of High Quality Technical Products & High Quality Yarns across the UK and Europe. SageZander supplies Tairyfil Carbon fibre yarn and our team works closely side by side with the manufacturing site in Taiwan linking the European customers with the producer. The Carbon fibre is suitable for pultrusion, filament winding, etc. Our stocks are available to support new customer sampling and regular deliveries. Our team provides a wide range of yarns that are suitable for all sorts of textile manufacture such as weaving, braiding and more.
When you work with SageZander, we always ensure that you are receiving yarns and technical products to the highest standards. SageZander is connected with many U.K. and European industrial and technical textile and composite industry processors. It is always of interest to us to hear from new suppliers that are looking for someone to market their products and place new developments into the markets where we can help.
If you have any enquiries about our High Temperature and Technical Sewing Threads then please contact us by giving us a call or drop us an email. We are always happy to try and help you solve your queries. You can rely on the experience of our team and our business partners to look after your requirements and product development needs.