SageZander provide a wide variety of the TAY Yarn Range. TAY are lead providers in production and development of technical application yarns and threads. 
TAY can spin specific blends in order to suit specific application areas and this is possible for some low volume business. Stretch Broken yarn can have superior properties to regular cotton spun types.
Tay are also able to twist continuous filament yarns with spun yarns to arrive at specific properties.
Get in touch with SageZander today to find out more about the range of Tay Yarn's we supply.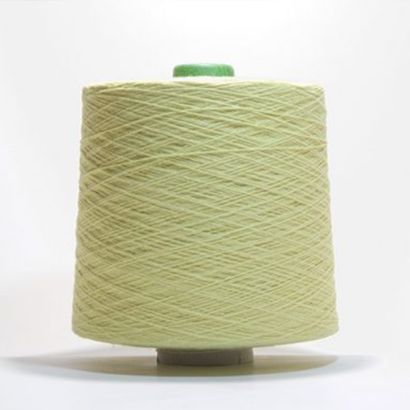 "Serving our customers with their needs at the heart of our operations."
TAY  is a dynamic and young company, that bases its experience in a consolidate know-how in the technical textile field, due to this it has acquired clients in more than 20 nations subdivided in three continents. 
TAY's high-tech yarns are successfully used all over the world and with TAY's global distribution network they can make deliveries to our customers quickly and flexibly. The key word used by the company is: "create together", in fact TAY is not only a simple supplier but a concrete and real partner for the clients that want create innovatory and competitive products able to win the difficult challenges in today's market.
Tay is a versatile producer with 4 specialist areas:
1.REGENERATED PARA-ARAMID FIBRES AND YARNS
High Cut and Heat resistance at a good price. Regenerated technical yarns in para-aramid fibers.
The regenerated para-aramid fibers maintain some technical properties similar to original fibers: in particular the high heat resistance makes this fiber very important in the industrial textiles production and fabrics in which even the price has an important role. This is suited to heavier counts like Nm 4 to Nm 16 and these counts can be plied to make them thicker to create dense heat resistant fabrics for personal protection, conveyor belts, narrow fabrics, etc
2.CUT RESISTANT YARNS
Using fibres like UHMWPE, Twaron®, glass, steel and other fibres 
We are now supplying Tay Yarn's technical yarns for the production of cut resistant fabrics and gloves that can obtain the highest cut level in respect of the main European and US standards. We can combine filament and spun yarn together using different fibres to create a final yarn that can meet the exact properties of a specific application
3.FIRE RESISTANT YARNS
Varying the technical fibre types used and combining fibres of different types. Tay produces yarn for any kind of heat resistant application. Spun yarns produced using the stretch-broken spinning system enable fibres such as twaron, kevlar, nomex, twaron, vectran and other high tech fibres to be spun down as fine as Nm 120
The quality and technical characteristics are the main focus and these yarns are exposed to extreme temperature. The Tay team pays maximum attention to the respect of percentage and technical standard of the supplied yarns.
4.SEWING THREADS
 We supply Spun 100% para aramid yarns using branded kevlar, twaron, technora, etc, Counts Nm 28/2, 50/2, 50/3, 50/4 and 100/2 are regular counts in the aramid types. These can be supplied on cone but more often that not we supply these threads on king spools.
These are spun using the stretch broken spinning route which is one of Tay's specialities. Stretch broken spinning starts with stretching and breaking continuous filament yarn. This produces long discontinuous broken filaments that have a lower elongation and a thinner diameter due to the process they just went through. These filaments are much longer than those used in conventional cotton spinning and they can be spun into finer counts. With more individual filaments in the cross-section and long fibres it means that high strength, consistent spun yarn is available and because the elongation is low this fits perfectly with the requirements of sewing threads for many applications.
We also have another technology that suits sewing threads for industry. This is a twisting around a core of steel wire with a para aramid yarn which gives a strong yarns that retains it's integrity due to the steel even in applications where the para aramid is burnt off.  Ask us about Nm 2100 steel and para aramid.

Generalised Product Range
| | | | |
| --- | --- | --- | --- |
| ARTICLE | COMPOSITION | COUNT | PACKING |
| Twaron® | 100% | Nm 28/2, 50/2, 100/2, 120/2 | 1.3k cones |
| Panox® | 100% | Nm 10, 14, 28, 40, 50 | 1.3k cones |
| Panox®/Twaron® | 70/30% | Nm 14, 24, 28, 36, 50 | 1.3k cones |
| Twaron®/Glass | 86/14% | Nm 12 | 1.5k package |
| UHMWPE/PA/Glass | 43/43/14% | Nm 12 | 2k package |
| Regenerated Para-Aramid | 95/5% (5% other fibres possible) | Nm 4/2, 8/2, 14/2 | 2 kilo package |
| Regenerated Para-aramid/Viscose | 50/50% | Nm 4/2, 8/2 | 2k package |