Low Melt Yarn with SageZander
SageZander can offer a tailor-made high-tech product with our customizable low-melt yarns. 
Depending on the degree of polymer modification, SageZander low-melt yarns have considerably lower melting point temperatures than standard polyester.
This type of yarn melts when an amount of heat is applied during the thermal textile finishing process and stiffens or rather stabilizes the textile surface. We offer 100% low-melt polyester yarns that are wear resistant in the textile industry.
Get in touch with us today to find out more about the low melt yarn products that we have available.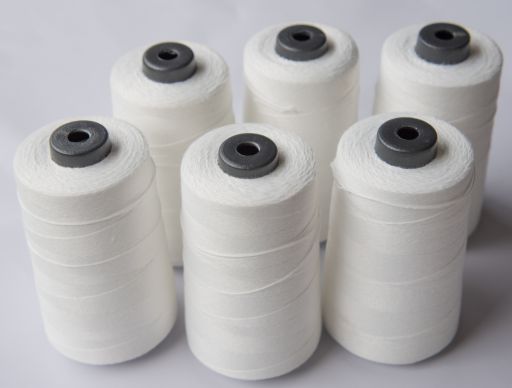 "Serving our customers with their needs at the heart of our operations."
In most cases, we can twist the yarn to make bespoke bonded threads or ready to bond threads with other filament yarns high in polyester or nylon or the yarns are ready to be used on their own.
End uses can be in composites where some the yarn can 'fix' itself to hold other component parts together. Sewing threads or fabric edges where the fixing/sealing sealing effect after heat is applied can be an advantage.
Can be used as a separation thread when heat is applied. Broad woven fabrics where the structure is loose woven and the yarn is used periodically warp and weft and can 'fix' the fabric structure.
Various other technical end uses and new product developments.
We have a wide variety of options:
Dtex 110 Nylon melting at 85°C: The softening point is around 75°C, melting start at 80-85°C and at 90°C it is completely melted and fluid.
Dtex 83 and 110 and filament polyester melting at 110°C: The behavior is softening at 60°C, starts melting at 70-80°C, and completely melted at 110°C.
Dtex 1770 High Tenacity Red Polyester and Low Melt Polyester melting at 110°C
We have other samples in progress in other materials with other melt properties. Just let us know any targets you have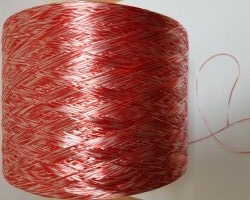 The above is Dtex 1770 high Tenacity Red 
Polyester/Low
Melt Polyester designed for weaving and bonding
Our Low Melt Yarn Materials
Our standard materials are modified polyester (co-polyester)and modified nylon (co-nylon). These materials melt under lower than normal temperatures but process in the same way as conventional yarns. Our standard low melt yarns are natural (not coloured). They can be used with conventional coloured yarns in any fibre to stiffen a fabric up after processing, to fix a fabric into shape or to seal an edge, etc. So in some respects they are a fusible or adhesive yarn although most people refer to them as bonding yarns.
Usually the customer will need to make tests to establish the amount of low melt yarn content he needs and where he needs to engineer the low melt yarn into the fabric. The temperature being applied, the time at that temperature and the application of any pressure in the process will also be key points to be assessed.
Some great new potential applications are in wall textile fabrics and partitions where the low melt yarn can secure a fabric weave and adds to the surface durability of the fabric as it holds the fibres within the fabric with no shedding.
The usual applications for low melt polyester and low melt nylon yarns include webbings, braids, cordage and narrow fabrics. Seatbelts, hoses and knitted items also suit these thermoformable yarns.
Also check us out for separation threads which some of our separation yarns are suitable for.
SageZander LTD is a wholesale company with global links serving a wide range of industrial customers from our UK offices. We are always looking to establish new co-operations that can generate new business or create business synergies.
When you work with SageZander, we always ensure that you are receiving yarns and technical products to the highest standards. Our team provides a wide range of yarns that are suitable for all sorts of textile manufacture such as weaving, braiding and more. SageZander is connected with many U.K. and European industrial and technical textile and composite industry processors. It is always of interest to us to hear from new suppliers that are looking for someone to market their products and place new developments into the markets where we can help.
SageZander provides a wide range of yarns and technical materials including Tairyfil Carbon fibre yarn and our team works closely side by side with the manufacturing site in Taiwan linking the European customers with the producer. 
If you have any enquiries about our Low Melt Yarn's then please get in touch with us today. We are always happy to try and help you solve your queries. You can rely on the experience of our team and our business partners to look after your requirements and product development needs.