SageZander Update November 2021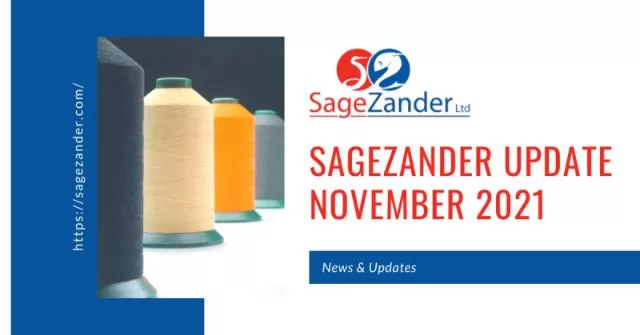 We have just launched our new website
SageZander
in which we have tried to enrichen the content with videos covering some of the weaving yarns we offer in regular, flame retardant and environmentally friendly yarns. Our page on
carbon fibre yarns
gives an overview into the way
carbon fibre
is manufactured. Most of our other pages have some more depth but up to a point as we always need to discuss the finer details of course! We will do more work to enhance the website further in coming months and we will try and alert customers to any updates relevant for their areas.
After the UK and other parts of Europe entered a further lockdown earlier this month we continue to work as normal supporting all our manufacturing customers with our polyester, nylon and specialty filament yarns from our stocks. At this time all of our partners are working as usual despite local lockdowns in the different countries they are based so the various spun yarns we offer from Para-aramids through to regenerated cottons are available more or less as usual
For UK customers, with a few weeks to go to the end of the Brexit transition period we would suggest that customers consider if they should consider to bring in yarns this side of Christmas. There are various warnings about the ability of the infrastructure to cope with new rules from 1st January relating to Europe and reminding companies that they will need to have a clearing agent in place for deliveries imported from 1st January. Our own recent experiences with the ports for shipments outside of Europe have found them creaking a bit and we can sense some nervousness about the paperwork requirements going forward causing delays whilst everyone gets used to the new systems. For the filament yarns that we hold in our warehouse stock this shouldn't be a problem to consider of course.
At SageZander, we pride ourselves on being a leading supplier in the yarn wholesale market, offering an extensive range of high-quality yarns to meet the diverse needs of our customers. Our collection includes a variety of fibers, textures, and colors, sourced from the finest mills worldwide.
We understand the importance of quality and affordability in the textile industry, which is why we are committed to providing exceptional yarns at competitive wholesale prices. Whether you are a small boutique, a large manufacturer, or an independent artisan, our dedicated team is here to assist you in finding the perfect yarn for your project. With SageZander, you can expect not only the best in yarn selection but also outstanding customer service and reliable delivery.